Model 15F Farm Implement Truck Hitch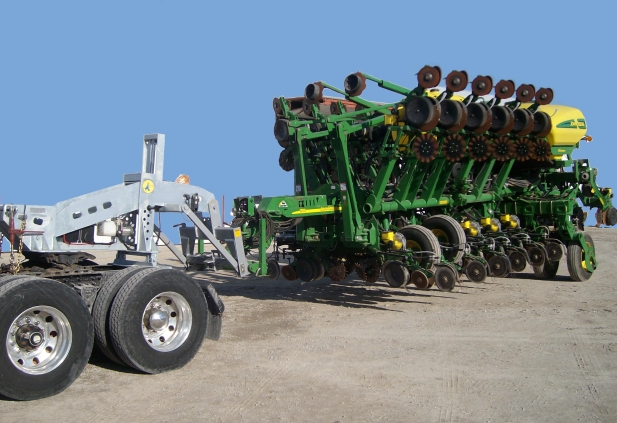 Features:
35,000 capacity
CAT III Quick Hitch & Draw Bar
Galvanized Finish
Remote Control Actuator
Essential for farm implement dealers who want an efficient professional solution for large implement transportation. Makes delivery of the largest implements a breeze! Utilize any standard fifth wheel tractor. Installs in minutes and can be removed just as quickly if the tractor is needed for another job.
Deluxe Model Features Auxiliary Hydraulics
Pioneer Fittings mounted to the rear of the unit provide hydraulic power to operate implements before being connected. The custom 4-way remote pendant controls the hitch or implement independently with the touch of a button.
The NEW Super-Duty Draw Bar brings your Quick Hitch draw bar to full 35,000lb towing capacity. Features dual 2"X4" Removable tangs and 1.5" hitch pin. The set back configuration accommodates Kinze 2 point hitches with protruding noses and any future similiar designs from other manufacturers.

Upper Tang - 4" wide X 2" Thick
Lower Tang - 4" wide X 2" Thick
Rated 10,000lb Tongue Weight
Rated 35,000lb Towing Capacity


Heavy Duty Truck Service Equipment
800-845-2507
Serving Industry World Wide
Copyright 2023 Direct Equipment Supply All rights reserved